SIGN UP FOR DR. JOHN'S NEWSLETTER
AND GET YOUR FREE EBOOK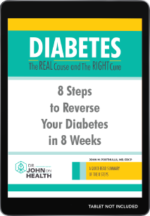 John Poothullil, MD, FRCP practiced medicine as a pediatrician and allergist for more than 30 years. Now retired, he has dedicated his life research to finding nutritional pathways to improving health, as is implied in the title of his first book, Eat Chew Live. He offers free information weekly on medical topics that range from obesity to Diabetes to Surviving Cancer. Start educating yourself on how to nutritionally heal disease and stay healthy. Join the newsletter and learn more at DrJohnonHealth.com. .