You Will Love This Thai Angel Wing Chicken Recipe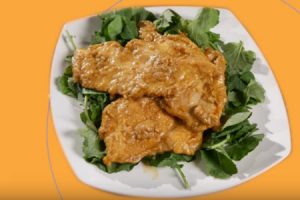 This is a Thai chicken dish that incorporates turmeric and garlic with a delicious peanut and coconut milk sauce.
Watch Chef Thu Ha Dinh of Portland, Oregon prepare this simple and healthy dish.
Diabetes: The Real Cause & The Right Cure. 
8 Steps to Reverse Your Diabetes in 8 Weeks!!
I am proud to share this informative yet easy to use book that will help you or a loved one reverse their Type 2 Diabetes in 8 weeks. My plan will also help you to remain diabetes free as you will take this on as a lifestyle.  Make better choices and take ownership of your health today!

SERVINGS: 4 people
SPECIAL EQUIPMENT: Wok or skillet
Ingredients:
4 skinless, boneless chicken breasts
3 tablespoons fish sauce
3 tablespoons minced garlic
3 tablespoons rice bran oil or any other high smoke point oil
2 teaspoons turmeric
½ cup coconut milk
3 tablespoons peanut butter (fresh ground is preferable)
1 package baby kale leaves or baby spinach
Preparation: (about 15 mins)
Pat dry the chicken breasts with paper towels. On cutting board, slice off fat and tendons.
Hold your hand carefully on top of the breast and with a sharp knife, lengthwise cut it into ¼ inch slices. Repeat for each breast.
 Put the chicken slices into a large bowl.
Add fish sauce, minced garlic, turmeric and oil according to taste, mix well.
Heat wok or skillet on high; drizzle in a few drops of oil to coat the pan.
Put entire chicken mixture into wok and cook until done.
Remove chicken from wok, leaving everything else.
Add coconut milk and peanut butter into the wok, stir into a creamy sauce.
Add chicken back into wok, lower heat, and cover with sauce.
On your serving dish, place fresh baby kale leaves or spinach.
Top with chicken and drizzle with remaining sauce.