Easy Healthier Summer Options Virtual Summit Series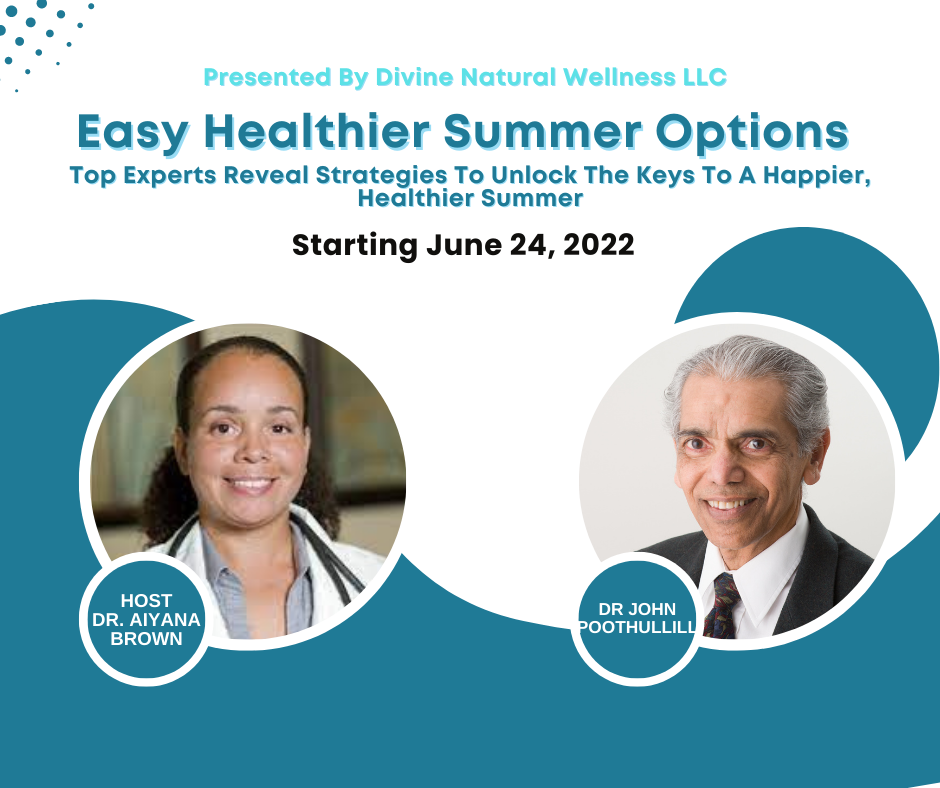 I want to introduce you to someone I've crossed paths with who is a fellow patient advocate as well as a Naturopathic Physician and Health and Wellness Transformational Coach.
Her name is Dr. Aiyana Brown and she is the owner of Divine Natural Wellness LLC and is also the host/founder of Healthier You In 2022, Healthier Holidays & Beyond, and Easy Healthier Summer Options Virtual Summits.
As a Naturopathic physician, she utilizes the principles of Naturopathic Medicine by:
promoting doctors teaching education on healthy lifestyles and disease prevention
incorporating the healing powers of nature thus promoting the body's ability to heal itself
treating the cause of dis-ease
using individualized treatment protocols for each patient
As a clinician, she has worked with patients from chronic illness and pain management to health prevention providing natural therapies and treatments. Throughout her years of clinical practice, she discovered there was a need for natural/alternative treatments in every aspect of one's physical, mental & emotional health. As an advocate for health, her practice is primarily focused on helping patients establish and maintain healthy lifestyles. Her desire is to educate and partner with patients and inspire them to be accountable for their own health.
In her quest to promote healthier lifestyles, Dr. Brown began searching and studying different techniques and strategies….
This journey has filled her with a passion to help others just like her, who were committed to making a change that would impact others.
And that's how our paths merged and the Easy Healthier Summer Options Virtual Summit interview series came to be.
She interviewed experts throughout the world in the Health & Wellness spectrum (including me!) to create a virtual platform filled with strategies to ignite self-awareness, educate/ empower and equip you as you transform your life to a healthier lifestyle.
The good news?  I have a complimentary ticket for you to attend on June 24th!  
Even better news? You can watch this interview series from your home, office or on the go!
You can register using THIS LINK. >>>>>>> https://bit.ly/EHSDrJohnPoothullil

The goal is to provide you with the tools, support and community you need to emerge from a healthier lifestyle to redesign your life and relationships to fit the new you, that health-conscious man/woman that has been stuck inside, waiting to be released.
We are featuring a 4 – 1 Day Live Virtual Summit Series which is designed to enhance self-awareness, educate and promote personal growth, and inspire transformative change necessary for a healthier lifestyle.
This is for Men, Women, and children, and as a family seeking to create healthier relationships with food, family, love & finances for the summer and beyond.
Register here for your complimentary ticket. >>>LINK https://bit.ly/EHSDrJohnPoothullil
Hope you will take this opportunity to join us and some of the other interviews.
Best Regards,
John