According to The Fight For Our Health – Presented by Bodega Body with Rich Cebada podcast, In The United States and across the world, health is often only guaranteed by the luck of birth. Every day it becomes more evident that the issues that stand in the way of achieving health and happiness for people of disadvantaged. Rich goes on to say:
It is not logical that millions of modern adults and children around the world are suddenly becoming insulin resistant. How does taking insulin treat Type 2 diabetes if you are supposedly "resistant" to insulin? I hope that "Diabetes: The Real Cause and The Right Cure" will influence governments who are subsidizing grain-based agriculture literally create a world of diabetics. Cheap grain-based products are hurting low-income families around the globe. To change our eating habits, we must learn to eat mindfully, learn to respect our bodies, reconnect with our "authentic weight," and learn to enjoy food as nutrition for our bodies.
Eliminate grains from your diet
Reconnect with your authentic weight
Maintain your authentic weight: paying attention to the hunger sensation
Maintain your authentic weight: listening to the signals of satiation
Overcome your tendencies to overeat
Take control of your eating habits
Understand the foods you eat
Eat and enjoy with no diabetes
Dr. John on Health Espanol links:
He currently has 18K fans on his Spanish Facebook page: https://www.facebook.com/DrJohnOnHealthEsp.
His book Diabetes: The Real Cause and The Right Cure is also available in Spanish: https://www.amazon.com/DIABETES-Correcta-Revertir-Diabetes-Semanas/dp/1733841113/
This is an animated video in Spanish describing John's theories: https://youtu.be/VJOqsAQgXww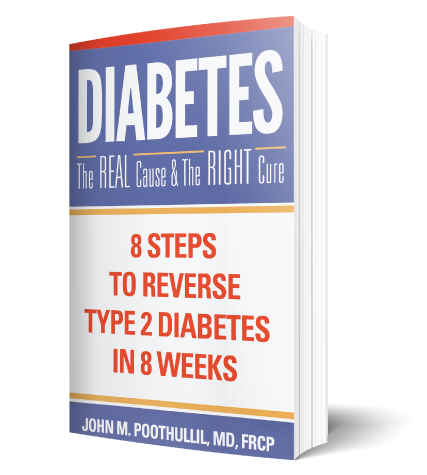 Diabetes: The Real Cause & The Right Cure.8 Steps to Reverse Your Diabetes in 8 Weeks  If you have been diagnosed with Type 2 Diabetes, this informative yet easy-to-use book will help you or a loved one reverse it in 8 weeks. My plan will also help you to remain diabetes free as you will take this on as a lifestyle.  Make better choices and take ownership of your health today.
Now you can start making healthy steps while simply listening to the book!!!
Click on this image to get the audiobook
Ahora en Español