I want to thank those of you who have been following along my six year journey, since my first book EAT CHEW LIVE was published in 2015, as I shared my theories on nutrition and disease. I hope in that time of reading my blogs and watching my videos, you feel more knowledgable about how you can live a better life through the choices you make around what you consume.
This week I share the third video in a series that was created to explain who I am. Please share this video with anyone seeking to make changes around their nutrition.
I have practiced medicine as a pediatrician and allergist for more than 30 years. During my medical practice, I became interested in understanding the causes and interconnections between hunger, satiation, and weight gain.
This eventually guided me to investigate the theory of insulin resistance as it relates to diabetes. Recognizing that this theory was illogical, I spent several years rethinking the biology behind high blood sugar and developed the fatty acid burn theory as the real cause of diabetes.
My own diagnosis of having cancer made me look deeper into why people develop cancer and why the incidence of cancer is also increasing globally. My thinking is that is not due to the increased exposure to cancer-causing agents but to the fact that grains and grain-based foods feed cancer cells with glucose such that they can multiply faster, overwhelming the immune system.
I have written four books and created Dr. John on Health platforms to share my research  and information with people struggling with diabetes and cancer, as a way to give them the tools they need to live a better life.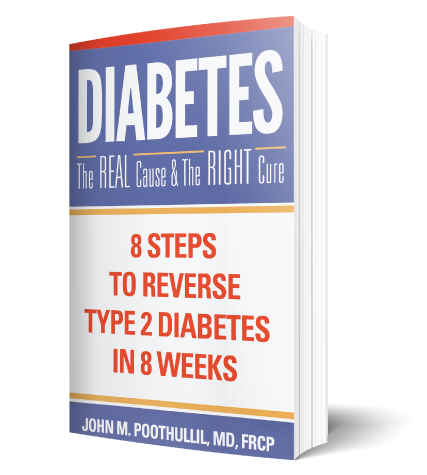 Diabetes: The Real Cause & The Right Cure.8 Steps to Reverse Your Diabetes in 8 Weeks If you have been diagnosed with Type 2 Diabetes, this informative yet easy to use book that will help you or a loved one reverse it in 8 weeks. My plan will also help you to remain diabetes free as you will take this on as a lifestyle. Make better choices and take ownership of your health today.
Now you can start making healthy steps while simply listening to the book!!!
Click on this image to get the audiobook
Ahora en Español