This is the fourth and final installment of 4-part answers regarding questions on weight control. Take a look back at part 1 where I discuss intermittent fasting, part 2 where I discuss using drugs for weight control, and part 3 where I answer questions about using surgery. This week I will be discussing weight maintenance in general. Watch this short video and read more below.
What causes weight gain?
Weight gain in an adult is the result of fat produced from excess food calories. 
Why not calorie restriction for weight control?
Voluntary calorie restriction, fasting, or medications can result in weight loss but not in weight maintenance because you can't ensure a timely intake of all needed nutrients. Nobody knows the nutrient concentration of foods you eat, the nutrient needs of the body, or the available reserves of nutrients at the time of your meal. 
How do I decide my food intake?
The sensation o hunger is created when the body needs nutrients, not energy because there is no energy counting mechanism in the mouth, the location of food entry to control food energy intake.  On the other hand, the brain creates the sensation of enjoyment when needed nutrients are detected by sensors in the mouth. The intensity of enjoyment is reduced after a sufficient amount of food is consumed, indicating satisfaction with the intake of that food. So, eat what you enjoy but more importantly enjoy what you eat and stop eating that food when the intensity of enjoyment drops during a meal.
How can I prevent weight gain?
Before the epidemic of obesity started about 60 years ago, grins and grain flour products contributed less than a third of daily food energy intake. So, if you can minimize the intake of grain-based foods you can prevent unwanted weight gain. Your aim should be to maintain your authentic weight, which is the weight you have when your fasting blood glucose, triglyceride and cholesterol levels are normal, regardless of your physical appearance or classification based on weight tables of BMI charts.
How can I know If I am eating correctly?
Check your weight once a day. If there is a wide fluctuation, review the previous few meals and make adjustments. Sometimes it helps to reduce food intake in anticipation of expected overindulgence during a celebration. Accept occasional overconsumption and corrections as normal.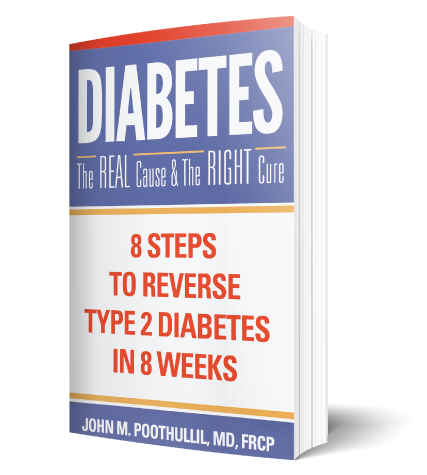 Diabetes: The Real Cause & The Right Cure.8 Steps to Reverse Your Diabetes in 8 Weeks
If you have been diagnosed with Type 2 Diabetes, this informative yet easy-to-use book will help you or a loved one reverse it in 8 weeks. My plan will also help you to remain diabetes free as you will take this on as a lifestyle. Make better choices and take ownership of your health today.
Now you can start making healthy steps while simply listening to the book!!!
Click on this image to get the audiobook
Ahora en Español