Widely-Held Beliefs That Need To Be Overturned : Part 2 – Cholesterol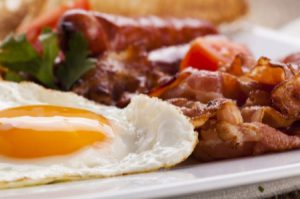 This week's post is the second part of a blog series presenting examples of widely-held beliefs about four topics— dietary fats, cholesterol, sugar, and exercise –that I suggest need to be revised and updated.
This is important health information that Americans should be educated about to reduce the rising rates of obesity and diabetes in the US. It is time we revisit the cholesterol guidelines.
Cholesterol
Old Belief — High HDL (the "good") cholesterol protects you by cleaning your arteries of LDL (the "bad") cholesterol 
New Information: Your body needs cholesterol, but high HDL offers no added protection
Dietary cholesterol is a fat molecule that comes from animal products, not from plants. But even if you do not eat animal products, your body needs cholesterol and your liver makes cholesterol from fatty acids derived from nutrients in your food.
Your body needs some cholesterol to build cell walls and make them functional. Without cholesterol in intestinal cell walls, your body would not be able to digest and absorb fat and you'd be running to the toilet after each meal. The relative stability of the cholesterol molecule allows the brain cells to have long-term memory. It helps to prevent excess loss of water from the skin when the temperature outside is higher than that of the body. Cholesterol makes the skin highly resistant to chemical agents and water that might otherwise easily enter the body. The minimal solubility of cholesterol in water prevents the disintegration of the cell wall even in the presence of large amounts of water outside a cell. It is essential to form bile salts, which promote digestion and absorption of fats in the intestine. These happen efficiently because cholesterol helps to maintain the physical integrity and malleability of cell membranes and structures inside each cell in the body.
Every cell in the body needs cholesterol to build the external wall and internal cell dividers. The cell can internalize a cholesterol molecule only when it is attached to its receptor on the cell wall. Only LDL, not HDL, can attach to the cell wall because in HDL, a protein cap covers the molecule's attachment site. In other words, LDL is the usable form of cholesterol, while HDL serves only as a floating storage form that can be converted into LDL form by removal of the protein cap in the liver when cells in the body need cholesterol. The protein cap on HDL is what makes it have increased density of its cholesterol molecule, thus the name "high-density" associated with it.
It is generally believed that HDL cholesterol is the good one, because as it flows through the bloodstream, HDL molecules gather up LDL molecules. But this is questionable, and there is no science that proves it. For a molecule such as HDL to remove an LDL molecule that is attached to the blood vessel wall, it requires a power source. Only cells, not molecules, have the capacity to generate power in the body.
What counts most is keeping your LDL cholesterol low, because an excess of these molecules in the bloodstream can attach to the lining of arteries, eventually building up a fatty, wax-like blockage that clogs the arteries and impedes blood flow. If this happens to arteries in the heart muscle, it can lead to a heart attack. If it happens to arteries in the brain, it can lead to a stroke. Therefore, based on the modern-day diet, reduced consumption of the raw material that your liver uses to produce cholesterol should be the preferred approach, compared to the use of medications that block the liver from manufacturing them. You can accomplish this by reducing the intake of an excess of carbohydrate in the form of grain and grain-flour based foods that provide your liver with excess glucose from which the liver can manufacture fatty acids to construct cholesterol molecules.
Part 3, next week's post, we will be looking at Sugar.
Diabetes: The Real Cause & The Right Cure. 
8 Steps to Reverse Your Diabetes in 8 Weeks!!
I am proud to share this informative yet easy to use book that will help you or a loved one reverse their Type 2 Diabetes in 8 weeks. My plan will also help you to remain diabetes free as you will take this on as a lifestyle.  Make better choices and take ownership of your health today!